Role: President/Founder
Connection to Sports: played football, baseball, squash and hockey. Has been coaching youth sports in Delta for 43 years
Best sports advice I've ever received: Boys have to PLAY good to feel good. Girls have to FEEL good to play good.
Favourite personal sports moment: Taylin McGill playing in a Rep A league game with her sister Kheya for the Delta Heat 99 vs Lightning 98.
Book I recommend: In Pursuit of Excellence. How to win in sports and life through mental training. By Terry Orlick. PHD
Why 140 Sports is important to me: Both of my Daughters and many of the most talented, popular athletes I have had the honor to coach have battled with Anxiety and Depression. A wise man would always tell me. "Sports is just a tool we use to teach kids about life."
Role: Vice President
Connection to Sports: Played baseball, hockey, tennis, squash (and am handy with a snooker queue). Has coached girls fastpitch for 14 years, first in Richmond and then in Delta for the past 13 years, from Learn to Play to Senior Women.
Best Sports Advice Received: If your players are looking for scholarships, tell them to study hard in school.
Favourite personal sports moment: (I could write a book…) 2nd round of the Provincial Championship playoffs in 2017, playing our big rivals who had eliminated us the year before. Watching 12 young women collectively decide they were going to win and then watching them do it. Four homeruns including a grand slam, and my daughter's first ever dinger, in the first two innings to put it away. Pure individual and collective determination. Pure magic.
Book I recommend: Sapiens by Yuval Noah Harari - cause we all need perspective on who and why we are.
Why 140 Sports is important to me: Players have to deal teammates, opponents and persons in charge and the outcomes of this are tremendously varied. I have personally witnessed how team sports can be a terrifically positive or in some circumstances a very negative experience for players, particularly children. At its best and with the right guidance, team sports can assist players to learn self- confidence, team spirit, focus, comradery, patience, resilience, self-respect and respect for others. The mentors at 140 Sports are drawn from those who have had success and have learned that successful competition and a winning attitude come from a positive approach to player development. They know that building a player's confidence, overcoming obstacles and making skills development fun are the keys to building a successful player, with a positive mindset. In youth sports, coaches and mentors are developing not only young athletes but also young minds. The people at 140 Sports are dedicated to assisting young players to overcome obstacles such as anxiety, stress or depression with a focused and positive approach to skills development.
Role: Treasurer
Connection to Sports: While my family and I have been in involved in many sports, softball is the one we all have a connection to. I have coached Learn to Play and U10 but eventually graduated to scorekeeper and spectator for my children. My husband, our oldest daughter and I continue to play slow-pitch together in the summer while our youngest daughter is currently playing U19 Fastpitch and plans to continue on at a university level. You will often find us enjoying our family dinners at the ball diamond.
Best sports advice I've ever received: Without sounding too cliché, I love the statement "there is no "I" in team." A team can consist of many players, but in the case of individual sport that team can be player and coach. Respect and support each other and when you fail you will learn from your mistakes together and come back stronger.
Favourite personal sports moment: too many to list, there have been so many great moments that they help me forget the challenging and tough ones. Sports have helped my family become the healthy and happy unit we are today.
Book I recommend: Taming the Worry Dragons, for any parents who has a young child suffering from any form of anxiety it's a must read.
Why 140 Sports is important to me: I have seen firsthand the affects anxiety has on people and how it can limit your potential if you let it take control. Every one of us has anxiety from time to time. It is not something you can cure, but is it a condition you can learn to identify and with proper coping skills put it to rest. If we can spread the word and get coaches and parents on board, I believe we can avoid some of the physical and mental consequences anxiety has on our youth.
Role: Director of Marketing and Communications
Connection to Sports: I grew up playing soccer and fastpitch. I have been involved in coaching and mentoring programs in Delta since the age of 12.
Best sports advice I've ever received: Before every major game my dad would tell me "soak it all in kid"
Favourite personal sports moment: My favourite moment was also probably one of the hardest moments we face as athletes, and that is the final whistle of your final game. My last youth soccer game was played at an international tournament in Sweden alongside a lifelong teammate and best friend. After that final whistle we stood at center field reflecting on our journey through sport together, and every memory and lesson it has brought us, was the most powerful and emotional experience of my athletic career.
Book I recommend: It's Not About the Bra: Play Hard, Play Fair, and Put the Fun Back Into Competitive Sports by Brandi Chastain
Why 140 Sports is important to me: Through sports I have learnt countless valuable lessons. Yet when I see the number of youth in sport impacted by mental health struggles, I feel like as coaches we are missing a very important teaching moment. 140 Sports provides the platform to educate not only players, but coaches and parents alike.
Role: Director
Connection to Sports: played a number of sports growing up. I have umpired for the last 15 years and started coaching in 2017.
Best sports advice I've ever received: be fair, approachable and willing to listen to all the players, even the ones that you are not coaching. Everyone needs to be heard
Favourite personal sports moment: Working with youth during the winter clinics and seeing them grow not only in the sport but also in their Life Skills
Book I recommend: Double Goal Coaching by Jim Thompson
Why 140 Sports is important to me: Being a Master Practitioner in Clinical Counsellor, I believe that sports is a way to assist the youth with Life Skills for on and off the ball field. I have had the pleasure of working with a number of ball players who have shared with me that they wished there was a program like this when they were younger.
Role: Athlete Mentor

Connection to sports: Softball, Volleyball, Basketball, Soccer

Best Sports Advice I've Received: To leave the field feeling that you gave your 110% effort and had fun

Best Sports Moment: Working my whole Heat career to be a provincial champion, then coming together and winning provincials as well as Nationals and Team of the Year in 2017.

Book I recommend : Mo'ne Davis: Remember My Name: My Story from First Pitch to Game Changer by Mo'ne Davis

Why 140 Sports is important: because when I was young I had unconditional support from players and coaches that helped me pursue my goals and dreams, and I feel that I can give the same as what they gave to me to young athletes with a dream. If you want it, knock everything down that gets in your way and prove to everyone that you're a champion. Champions never die.

Role: Athlete Mentor
Connection to sports: plays on the Delta Heat, played soccer, volleyball, basketball, did swimming, dance and gymnastics

Best sports advice I've ever received: play for your teammates not yourself

Favourite sports moment: coming together as a team after all our hard work to win a provincial and national champion in 2017

Book I recommend: little girls in pretty boxes: the making of elite gymnasts and figure skaters by Joan Ryan (explains the hardship and and struggle that young female athletes have to go through)

Why 140 sports is important/ why I'm involved: growing up as a multi sport athlete it can be very stressful, not to mention the stress of school and fitting in and basically everything. I luckily had so much support through coaches, friends, family and older girls in my organization helping out. I would absolutely love the opportunity to be able to assist young girls in growing up to be amazing athletes and people in general.

Role: Athlete Mentor

Connection to Sports: I currently play softball, but I have played volleyball. soccer, basketball and swimming in the past. I've been coaching in delta for 5 years

Best sports advice I've ever received: Leave it all on the field and play for each other.

Favourite personal sports moment: pitching in our final game and winning gold in 16U Nationals on our home field.

Book I recommend: Chop Wood Carry Water: How to Fall in Love with the Process of Becoming Great by Joshua Medcalf

Why 140 Sports is important/Why I'm involved: going through high school was a really stressful time for me. Trying to keep up my grades, play competitive sports and have a social life put a lot of weight on my shoulders. I want to give back to the community and help others have an easier transition in life and manage their busy lives. I only wish this program was built when I was younger, but instead I get to be a part of it.
Role: Athlete Mentor

Connection to sports: play on the Delta Heat 01, also play basketball

Best sports advice I've received: "there may be people that have more talent than you, but there's no excuse for anyone to work harder than you do" -Derek Jeter

Favourite personal sports moment: winning the Canadian nationals in 2017 after having
to go the back foot route to the finals.

Book I recommend: Mind gym: an athlete's guide to inner excellence by Gary Mack

Why this is important: There is so much pressure out on young female athletes to get scholarships and keep their grades up. I want to share my experience with young athletes to help them deal with the stress and anxiety they will be experiencing .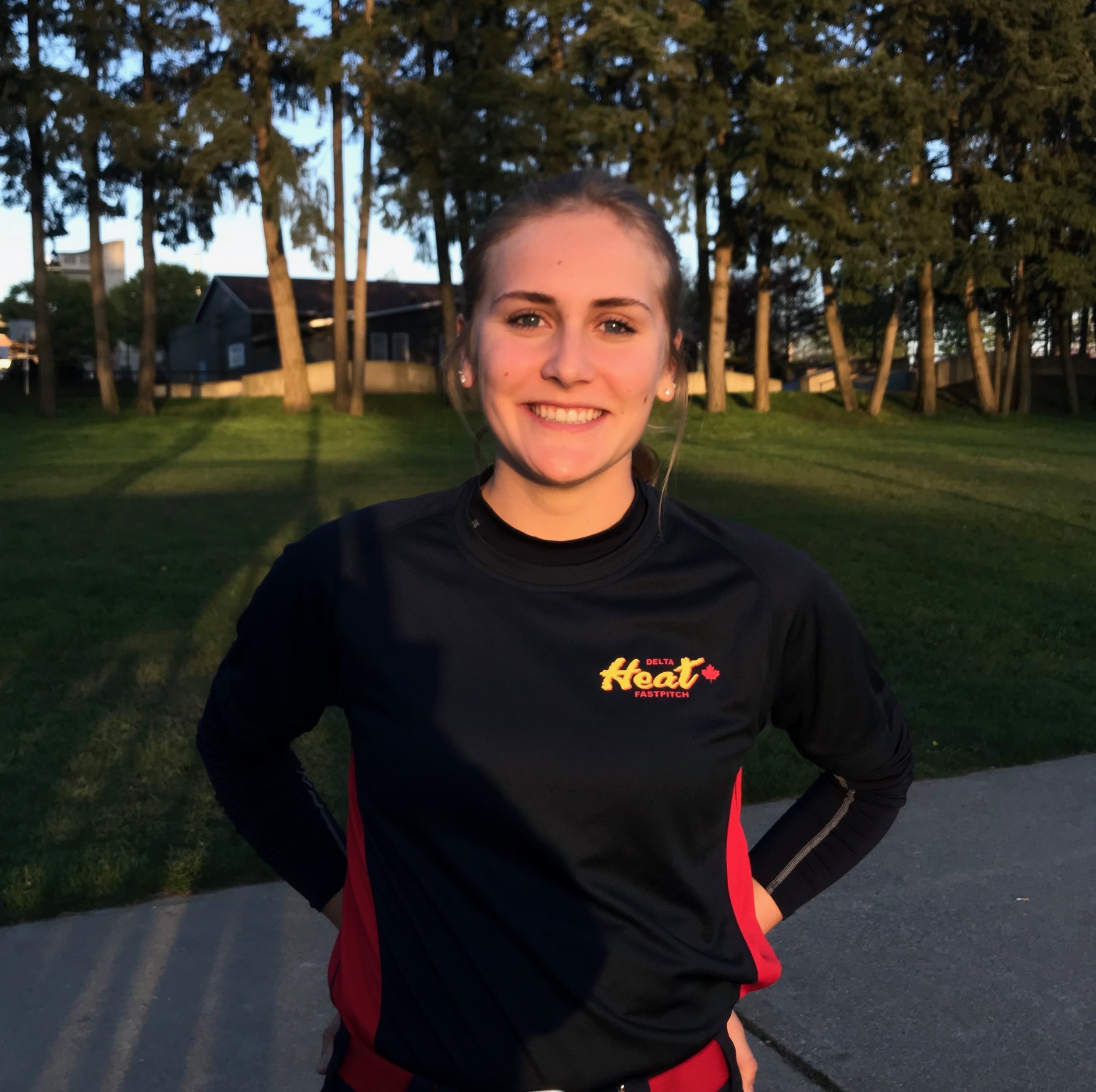 Role: Athlete Mentor

Connection to sports: Softball, Volleyball, Basketball, track and field and have coached in the community for 5 years.

Best Advice I have received: Don't let your worries/fears of the unknown, stop you from trying something new

Best Moment: after putting in many years of hard work and seeing it pay off by winning both provincials and national in 2017 and being softball BC team of the year.

Book I recommend : " Taming the worry dragons" is an amazing book filled with ways to cope with anxiety.

Why this is important: I grew up with the support of many coaches there for me whenever I needed it. They helped me over come any obstacles I encountered. Being a kid who struggled with anxiety I want to help kids to cope with there anxiety because I know how hard it can be. Playing sports really helped me get through my fears by offering me many experiences. I want to help and guide kids through the stress an anxiety that comes with sports and school to help them achieve there goals

Role: Athlete Mentor

Connection to sports: softball, basketball, volleyball, soccer, tae kwon do

Best advice: Failure is the first step to success.

Best moment: winning provincials, nationals and team of the year in 2017.

Why this is important: sports is something that has taught me many lessons in a short amount of time. I've met the most amazing people and I want to change someone's life with the sport that helped changed mine.
Role : Athlete Mentor

Connection to sports : softball, soccer, volleyball, basketball

Best advice : the way you portray your effort in practice is the way you will play in the game

Favourite team moment : finally winning together as team at nationals and provincials 2017

Book i recommend : i never had it made; jackie robinson autobiography

Why this is important : because sports teach you not only how to play a game but respect and honour for the game. I can say that i wouldn't be the person i am today if it weren't for the sports that i've been a part of and that they have played a major role in my character development. I wouldn't be able to make it through school without the constant support from my teammates and coaches.
Connections to sports: Softball, Volleyball and Basketball
Best Sports Advice you have Received: If you think you can you can and if you think you can't you can't. You have to believe in yourself before anything.
Best Sports Moment: Ar U19 provincials losing to Devils 00 in extra innings,then coming through the back door to make it to the finals.
A Book you Recommend: Mindset by Carol S, Dweck; this book gives you a different outlook on yourself and mindset on how to believe in yourself.
Why 140 Sports is Important to you: 140 Sports is important to me because growing up playing sports I struggled mentally with pressures and had challenges along the way that were all new to me. If only I had knew what I did now then it would have been very beneficial. That'w why I wanna be able to give back to youth and help them understand what I didn't at their age.